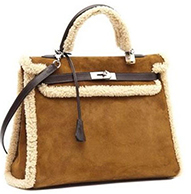 Hermesexperts is an exclusive Hermes authentication service and is not affiliated with Hermès.
Hermesexperts was founded by Emily Berg  in 2015.
My mission is to provide personal authentication services and assistance in answering authenticity questions for Hermes handbags.
I provide individual, personal and superior customer service. All Hermes authentications are handled only by me.
Hermesexperts.com
is an independent authentication service that renders opinions on the authenticity of Hermès handbags and wallets and is not affiliated with or sponsored by Hermès. Opinions provided by
Hermesexperts.com
are the personal opinions of Emily Berg and are based on her knowledge of Hermès handbags obtained from years of buying, collecting and studying them. By paying for authentication, the client agrees to hold
Hermesexperts.com
and Emily Berg harmless from any liability or cause of action whatsoever. Further, client's purchase of authentication services is made with their explicit agreement to indemnify, defend, and release
Hermesexperts.com
and Emily Berg from and against all claims, damages, losses, or other liabilities that may result from or be grounded upon any opinion rendered by either of them.