Providing buyers and sellers of Hermes bags with fast and independent authentication services based on online images and descriptions.
As a Hermes specialist authenticator, I know how important it is for customers to receive a prompt response when they need authentication services. My turnaround time is approximately 12 hours or less from receipt of satisfactory pictures and payment of fees. All opinions are on a Hermesexperts watermarked PDF certificate. Service is available 24 hours 7 days a week.
Hermes Authentication Services: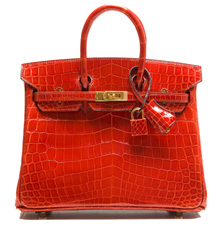 Providing fast, written authenticity opinions on the Hermes Birkin, Kelly, Evelyne, and all other Hermes handbags and wallets for every situation and need:
• You have already bought a Hermes bag but are worried whether it is an authentic or fake Hermes product? Ask me and give yourself peace of mind.
• You want to buy a Hermes bag online but are afraid that you might get scammed? Send me the link to the sale and I will consult you.
• You are a seller and want to make sure that your Hermes bag is authentic before listing it for sale? I can help.
• You represent a consignment shop or another type of business that needs regular authentication services? I would love to work with you and I offer special business pricing.
• You bought a fake Hermes bag and need a third-party, independent opinion to dispute the transaction with PayPal or the credit card company? I will provide you with a detailed written Certificate of Non- Authenticity.
• You want to know the estimated value of Hermes bag which you bought, or plan to buy or sell.
Hermesexperts.com
is an independent authentication service that renders opinions on the authenticity of Hermès handbags and wallets and is not affiliated with or sponsored by Hermès. Opinions provided by
Hermesexperts.com
are the personal opinions of Emily Berg and are based on her knowledge of Hermès handbags obtained from years of buying, collecting and studying them. By paying for authentication, the client agrees to hold
Hermesexperts.com
and Emily Berg harmless from any liability or cause of action whatsoever. Further, client's purchase of authentication services is made with their explicit agreement to indemnify, defend, and release
Hermesexperts.com
and Emily Berg from and against all claims, damages, losses, or other liabilities that may result from or be grounded upon any opinion rendered by either of them.